INTRODUCING 
The Travel PT Bootcamp
Confidently become a travel PT as a new grad
(Without the fear of being taken advantage of, the worry of getting a bad assignment, or not knowing where to start)

I'M READY! LET'S DO THIS, JESS ->
Before I tell you about this program, let's talk about who it's for...
The Travel PT Bootcamp is for Wanderlusting Souls like you, who want to make six- figures as a physical therapist on your terms- where you want, when you want, and have the FREEDOM to take time- off time when you want. Because life is too short- and your job should support the kind of lifestyle you want, not BE your life.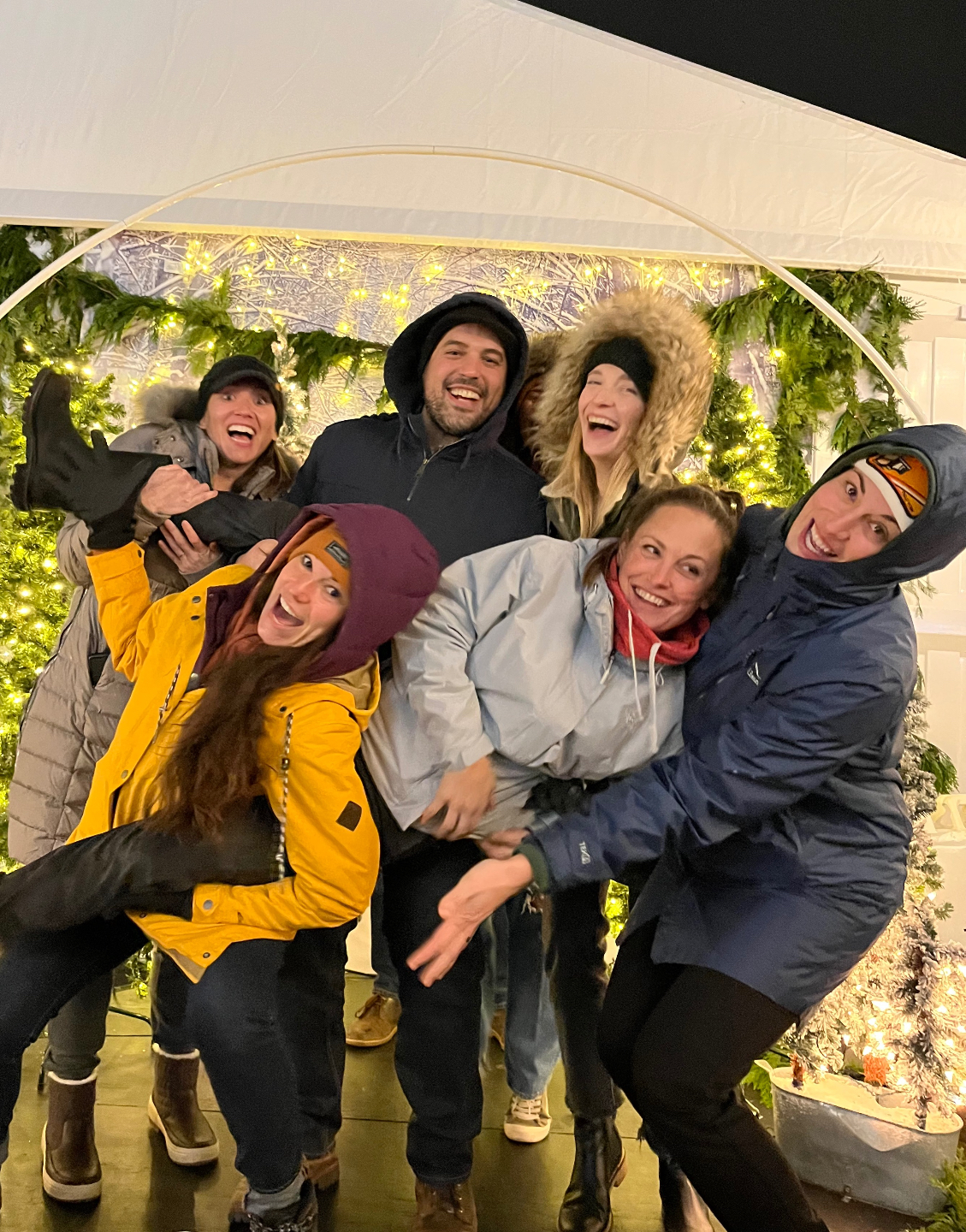 So, if you are a... 
New Grad PT who is eager to get started but doesn't know where to start or thinks you "need experience first"
New Traveler that wants to know what the HECK you are doing, negotiate more, avoid mistakes and recognize red flags 
Seasoned PT who wants to escape burnout and needs a change but is unsure and feels stuck
Student PT who knows this is the next step and wants to get ahead

Therapist Team who wants to travel together and gracefully navigate getting contracts in the same area

You're in the right place.

The Travel PT Bootcamp will give you the tools, inspiration, confidence, and unparalleled support on your journey to thriving as a new travel PT. 

This program is NOT for people who are happy conforming to societal norms, the monotony of a typical 9-5, a sub-par paycheck, and only 2 weeks off a year. 

BY THE END OF THIS PROGRAM,
YOU WILL HAVE


1. Six- Figure Salary & Real-World Prep

Say goodbye to guesswork! We'll guide you through the travel therapy industry, from finding the perfect job to negotiating higher salaries, crushing student loans, and saving for retirement, so you can feel the the financial security that travel PT allows. 



2. The "Right Job" with Mentorship

You won't be alone on this journey. Benefit from valuable mentorship and guidance, ensuring a smooth transition and paving the way for your success.



3. Actionable Steps to Eliminate Overwhelm

No fluff here! Learn proven strategies and practical tips to kickstart your travel PT career. Say hello to lucrative opportunities and farewell to overwhelm.



4. Confidence & Certainty

Say goodbye to imposter syndrome and hello to a new confident traveling therapist with a fool- proof, step-by-step system that walks you through

everything

you need to know to find the

right

job for you (

even as a new grad

).



5. Freedom in your  Career & Life

Time to design a career that allows you the freedom that you want: freedom of time, location, and financial freedom.

You'll be free from the common fears: of being

taken advantage of

, 

overwhelm

, and the unknown,

 because you know exactly what to expect.


But above all else...

You'll seamlessly transition from a new grad to a seasoned travel PT with confidence and without overwhelm or uncertainty, armed with a step-by-step system & mentorship that covers every aspect of your career:  Rake- in a six-figure salary, design your ideal lifestyle, and enjoy the FREEDOM of time, location, and financial independence.

And you'll never be alone, surrounded by a community of other like-minded (Wanderlust) PTs.

YUP! I NEED THIS.
JOIN THE HUNDREDS OF
STUDENT SUCCESS STORIES
Martin
Thanks to Jess, I was able to secure a great contract & negotiate thousands of dollars more in my first contract. 
Gina & Garrett
As new travelers, we paid off $133,000 in student loan debt in 14 months, and Jess has helped us every step of the way.
Angelica
This course took the guesswork out of the process. Definitely recommended! The course resources are invaluable.
What's Inside The Bootcamp
Module 1
Getting Started:
This module will give you a jump-start on your travel therapy career, even if you haven't graduated yet.
Module Highlights:
Clear, step-by-step instructions to confidently kickstart your travel therapy career. We'll gain clarity around where you want to go, and how you are going to get there. 
Crafting an irresistible resume 
Finding trustworthy recruiters and companies to work with
Licensing requirements and staying organized with multiple licenses
Understanding tax home rules before embarking on your travel adventures 
Module 2
Finding the Right Job: 
The content in this module is the most critical to making sure the first job is the right fit for you, so that you are not taken advantage of or "thrown to the wolves" or "sent to bad places."
Module Highlights:
Includes my 5 Step Job Search System to finding the right job and researching new locations and:
Discovering your perfect job fit through effective interview techniques and questions
Accessing mentorship, orientation, and support from experienced therapists
Mastering negotiation strategies to increase your take-home pay
Researching new locations and uncovering the best job opportunities


Module 3
Thriving as a Travel PT
This module is filled with tips and tricks that address the intricacies of traveling after you accept your first position, so that you don't burnout and can travel as long as you want. 
Module Highlights:
How to stay organized complete with my Traveler's Toolkit of resources to help make your transition to travel life easier
Navigating housing options and avoiding unnecessary expenses
Adapting to new environments and building connections
Managing multiple licenses, CEUs, and health insurance
Strategize traveling as a team and getting contracts together 
Practical resources to simplify your transition to the travel therapist lifestyle
Plus, These
11 BONUSES

to help you seamlessly transition and thrive as a new travel PT...
BONUS #1: New Grad, New Goals Guide ($229 value)
BONUS #2: Resume Transformation Workshop ($448 value)
BONUS #3 Financial Health and Wealth Roadmap ($468 value)
BONUS #4 Recruiter Matching System ($225 value)
BONUS #5: Licensing Clarity Session ($219 value)
BONUS #6: The Traveler's Health Insurance Handbook ($349 value)
BONUS # 7: The Mentorship Manual ($499 value)
BONUS # 8: Contract Confidence Audit ($394 value)
BONUS # 9: The Housing Search Blueprint ($319 value)
BONUS #10: The Thriving Traveler Trainings ($449 value)
BONUS #11 The TravelPT's Effortless Organization System ($429 value)
Dylan
This online course was the BEST online course that I have taken, by far (and I have taken many).The lessons were organized, with an incredible amount of resources, all to help get you started on the journey to become a traveling therapist.
It's Official: 
The Travel PT Bootcamp

 Changes Lives, and It's OPEN for Enrollment.



(BUT NOT FOR LONG...) 




Here's what you get when you enroll Today:

The Travel PT Bootcamp

(a $3,997 value)
Pre- recorded & live sessions that cover everything you need to know about confidently become a travel PT without fear, overwhelm, and uncertainty, even as a new grad. 
AND 
Travel Therapy Strategy Call  ($625

 value

) to develop your plan for transition

3 Weekly Live Q & As (

$1,875 value

) so all of your questions are answered 

Private Messaging community (

$250 value

) for support & questions 

Recommended Recruiters: Immediate Exclusive Access to the BEST in the biz ($199)
Career Coaching Call (

$625 value

) to guide you as you find your first assignment 

Private FB community (

$225 value

)  lifetime access for ongoing support 

Lifetime access to Recordings of trainings
Affiliate opportunity to earn rewards for referring friends
Certification as a WanderlustPTs Travel Therapist
On top of The Bootcamp,
you'll also receive these 11 BONUSES 
to further support your travel therapy journey.
(a $4,028 BONUS value)
Fast-Action BONUS: Resume Review (Limited to the first 5 sign-ups, $199 value)
New Grad, New Goals Guide ($229 value)
Resume Transformation Workshop ($249 value)
Financial Health and Wealth Roadmap ($468 value)
Recruiter Matching System ($225 value)
Licensing Clarity Session ($219 value)
The Traveler's Health Insurance Handbook ($349 value)
The Mentorship Manual ($499 value)
Contract Confidence Audit ($394 value)
The Housing Search Blueprint ($319 value)
The Thriving Traveler Trainings ($449 value)
The TravelPT's Effortless Organization System ($429 value)

That's a Total Value of $11,824.

But when you enroll today, you'll get access to everything for just... 


$1,997

The Summer Bootcamp Cohort runs Aug 7th- 28th, 2023.

Fast- Action BONUS: Limited to the first 5 who sign up will receive a Resume Review.

SPACE LIMITED: Only 20 spots available for summer session.

Price will increase for next cohort.
Bailey
Take this class!! Even if you think you won't need it or that you can get the information elsewhere, this class had an amazing set-up that really guided me through the whole process of becoming a traveling therapist. I don't know how students go into traveling therapy without this course! I am very thankful and relieved that I'm able to have this course to guide me!
Cheyenne
My biggest concern is being a new grad and being thrown into a complicated world of travel therapy. This program has given me the knowledge and confidence to succeed as a new grad traveler. I feel so much more prepared to attack traveling head on.  Beyond the lessons, the handouts and worksheets alone are worth it.
You can invest with complete confidence because you'll be backed by

TWO Guarantees

1. A Risk-Free "Love it or Leave it" 30-Day Guarantee 
You're not afraid to invest in your career if you know it's a wise one... with plenty of skills or ROI to show for it. (Sooner rather than later).

I get you. I've been there. 

So here's why you can place your confidence in a money- back guarantee and set any enrollment nerves aside-

By the end of 30 days, you'll have received access to the entire program.

Meaning you'll have the opportunity to step inside, go through the program, follow the simple step-by-step plan, and realize for yourself just how valuable the program is and how amazing it feels to live the life of a traveling therapist.  


If by 30 days, you don't absolutely LOVE it as much as I do and hundreds of other students have-

I will refund your investment

.
2. The Six- Figure Travel PT Guarantee
This program isn't just about consuming information. It's about implementing the information in order to get a great travel PT job with a FAT PAYCHECK and thrive as a new travel PT-
So I won't be happy until you do!
I've done everything in my power to make this the BEST Travel Therapy Course & Mentorship Program specifically for Physical Therapists!  
I KNOW it works because it's the exact same processes and information that I use and hundreds of students whom I have mentored and have become successful travelers themselves.  
I guarantee that you will make a six- figure salary as a travel PT in 90 days or less, or

I will work with you until you do

.

WHAT STUDENTS ARE SAYING...
Hi there, Aspiring Travel PT!

I'm so excited for you. Travel Therapy changed my life, and I know it will change yours too.

After 10 years as a travel PT, learning from my mistakes, and coaching thousands of aspiring travelers, I've realized travel therapy fears, mistakes, and red flags can be avoided with proper education, support, and mentorship.

That's why I created this program & WanderlustPTs- so you can build the life and career you've always dreamed of-  without overwhelm, fear, or uncertainty!

Cheers to Creating a Life that Lights You Up~ 

Dr. Jess 



I'M READY TO JOIN YOU, JESS!
Burning Qs your fellow aspiring travelers asked before grabbing their access


I am a college student, in-debt, with NO MONEY. The cost of this program is steep for me right now. How can I justify spending this much on the program?
How long do I need to be a therapist BEFORE I start traveling?
What if I haven't graduated yet?
Will I really have time to complete the online course? I am studying for my boards.
I am not a physical therapist, but I am a COTA/OT/SLP/PTA. Is this course still applicable?
How many hours will I need to invest?
When does the course start and finish?
How long do we have access to the course?
Olivia
If you have any hesitation about joining this course, DO IT! This course was so helpful; I don't know how I would have done it without this course, especially since I'm such a planner. I researched traveling therapy A LOT before I found this course, and it was great to see things that I never researched or considered come up in these lessons. You will learn things you never thought of before and will be thoroughly educated on all you need to know in order to be ready for the experience of your life!
Enrollment is open.
Space is limited. 
Reserve your spot now.